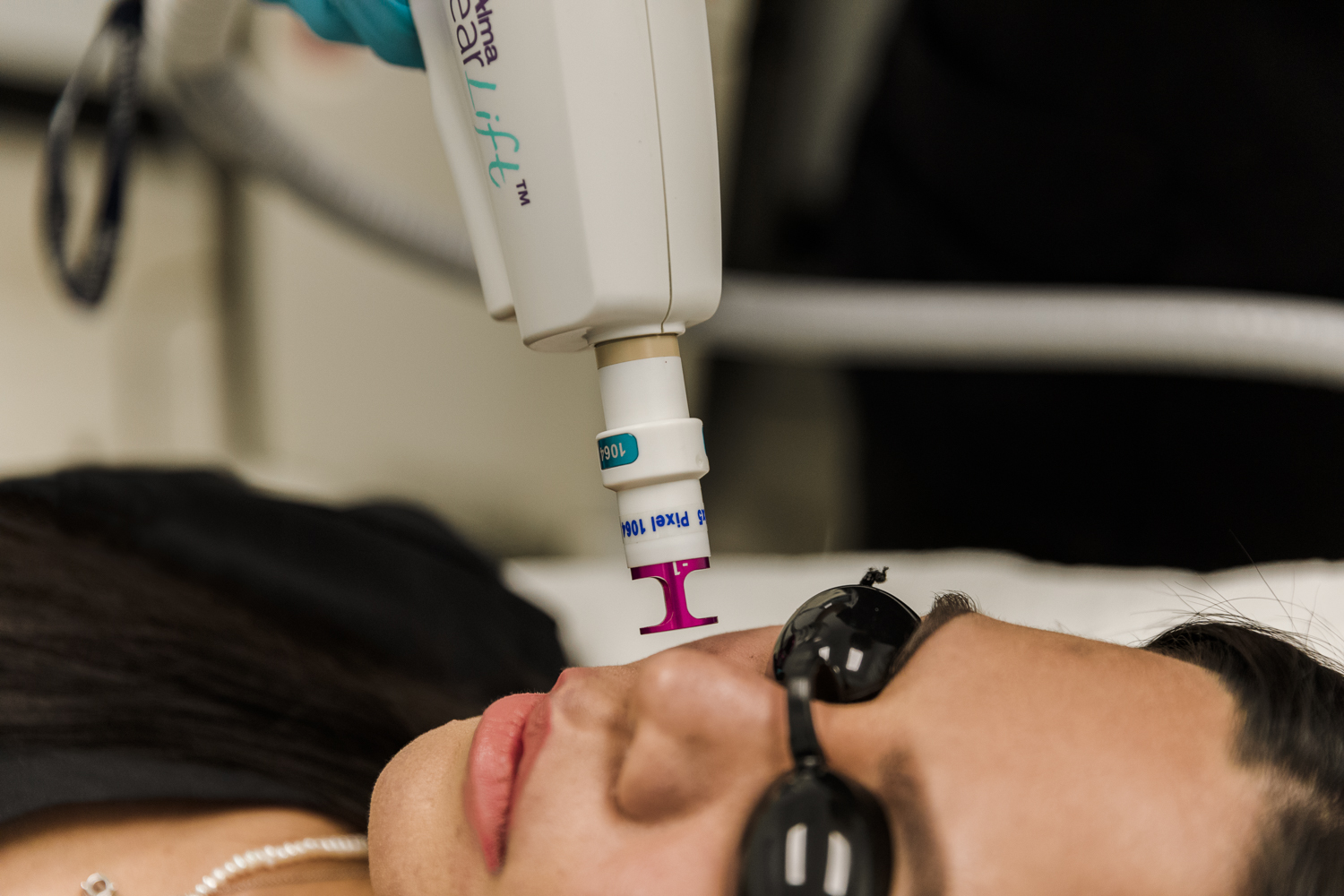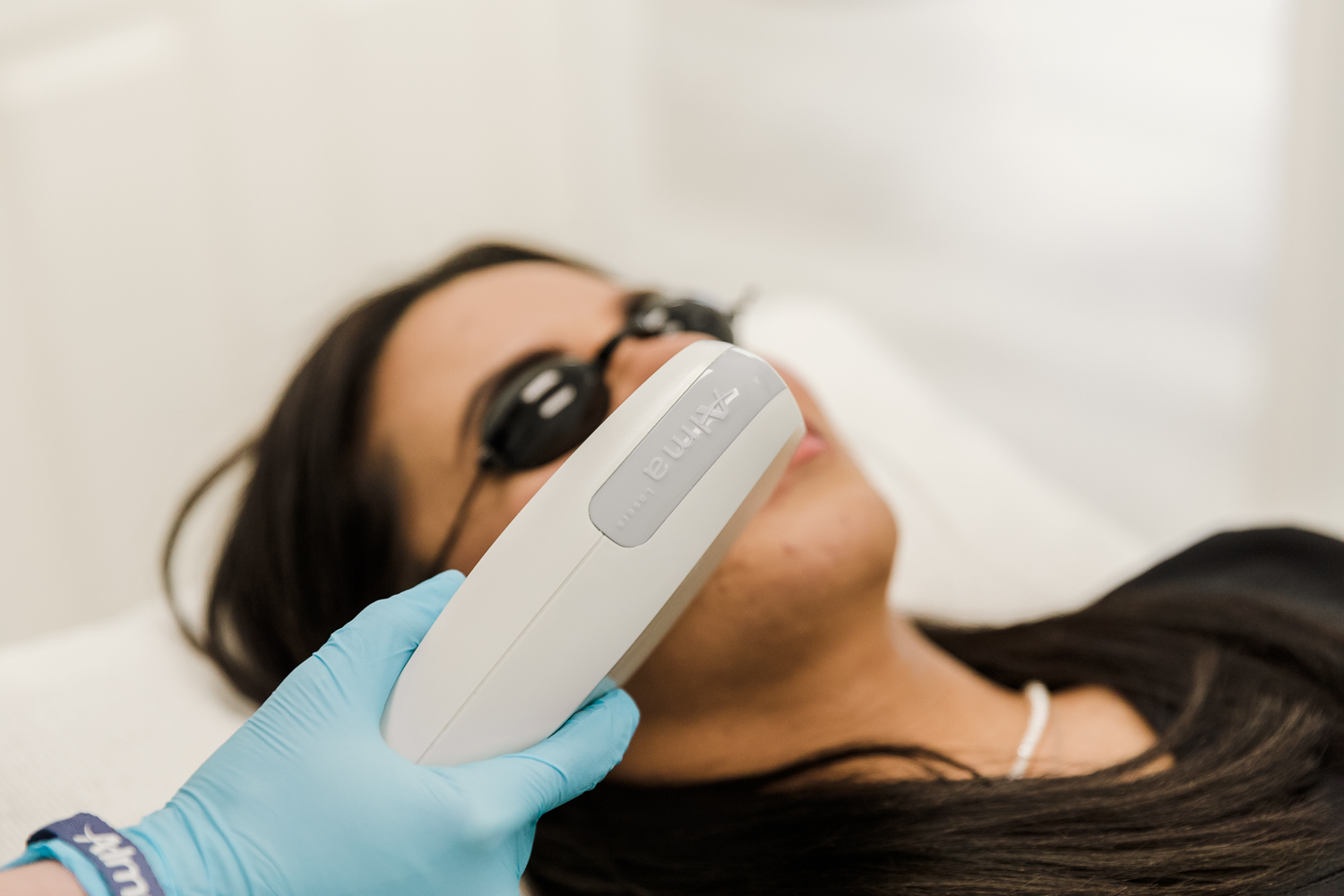 What is a Facial?
This is a very common question. A professional facial is designed to help you relax and improve your skin. Facials help prevent and treat common problems. Not only do you leave with a smile and a fresh glowing complexion, but it can boost collagen production, clear out pores, hydrate and moisturize, remove dead skin cells, and improve the appearance of fine lines and clear up blemishes.
When should a facial be done?
Monthly: A professional facial is a great addition to anyone's skincare routine. The better you are to your skin, the better your skin looks and feels. Plain and simple. Also note, unless a product says spa grade or is sold by a spa/dermatologist/med-spa, do not assume it will do amazing things for your skin because of the price tag. Just because a product is expensive in a store, does not mean it is the miracle to your problems. Surprisingly, most products sold in stores could never be used professionally by a dermatologist, esthetician or technician. During a facial, you receive only the best spa grade product. The outcome? Healthier skin.
Who should get a facial?
Are you male or female? Are you between the ages of 14 and 80? Is your skin very pale or very dark? Any answer you just gave means you are a candidate for facials.
How do you prepare for a facial?
Do not exfoliate or use harsh chemicals on your skin up to 4 days before your scheduled appointment.
Men should not shave the morning of their facial.
It is not ideal to come for a treatment with a sunburn but we do have calming and soothing spa grade product to relieve the burn for you.
If you have a wedding or special event coming up, do not get facial the night before the event. Book the treatment 2 to 3 days before your major event. Your skin will be fresh, glowing and looking its best.
What to do during treatment
It is always polite to turn your cellphone on silent or off. The Technician wants your experience to be as relaxing as possible. This should not include interruptions. If you wish to chat, we would love to but if you want a quiet atmosphere, do not be afraid to stay quiet. We will read your cues. Lastly, enjoy the experience. Take it all in!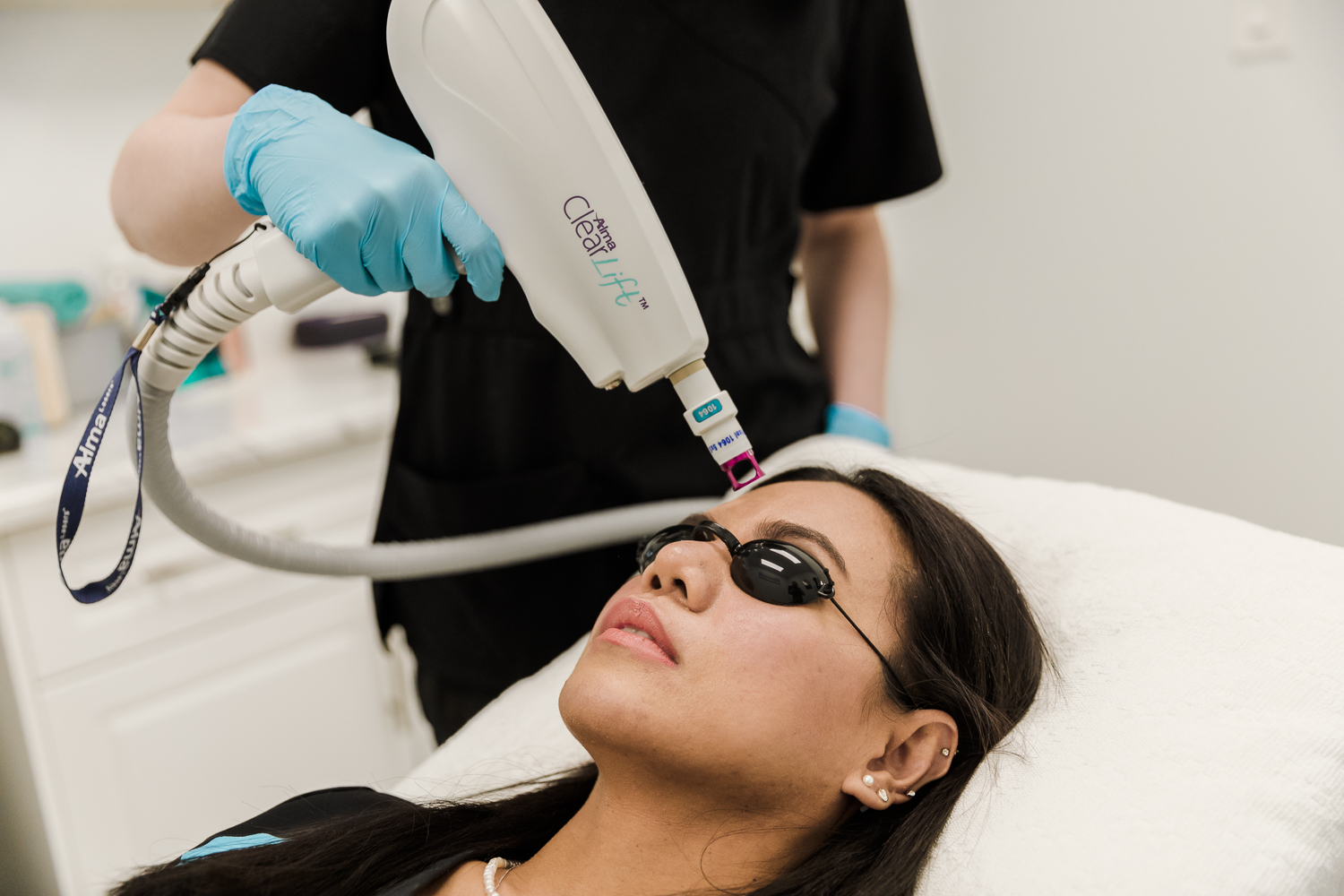 Breakdown On Type Of Facials We Can Do
1. Sun damage Treatment:
It is NEVER to late for this one. Have you ever been a sun worshipper or a sun goddess? We have the right spa grade product and 10 step treatment for you that will aid in the reversal of some sun damage. To maintain this treatment, we are very strict with you about sun protection. We are not just talking about the summer months here. This is a 12 month, day to day regime you must follow as well for best results. Skin cancer sucks. So lets do our best to prevent that shall we? You will be pampered with cleaners, toners, scrubs, serums, masks, creams and of course, sunscreen. Only the best for you!
2. Blackhead treatment:
This is designed to rid the skin of blackheads and congestion. This is a 9 step relaxing process that can easily be replicated at home with some practice and help. A home care regime is highly recommended after this treatment.
3. Acne treatment:
Suitable for all ages. This treatment helps you achieve a healthy, clear complexion with an intense 8 step process. *Do not use any acid treatments up to 4 days prior to your appointment and please do not exfoliate. Research has shown clients achieve the best results if they up their water intake and lower alcohol consumption during the treatment period. Did you know alcohol wreaks havoc on your skin?
4. Hydrating Treatment:
Does your skin look dull? Dry? Lifeless? Can you see flakes of dead skin on your face? How does your makeup sit on your face? This treatment is a moisture surge your skin needs and deserves. Our 8 step process will hydrate your skin and give it the nutrients it so desperately needs. The high and low hyaluronic acid ensures that the moisture level is sealed in for long lasting wear. The skin then looks revived and fresh throughout your day.
5. Sensitive Skin:
Fragile, sensitive and easily damaged skin requires special care and attention. Sun exposure, wind, changes in temperature and ingredients in products cause this type of skin to react. We have a gentle, safe, professional spa grade treatment system to help you with that.
6. Detox Treatment:
Delight your skin with this intense detox treatment to remove nasty impurities and unclog pores. A fresh, revitalized and brighter complexion will be revealed to enhance your skin health and personal well being. During this 8 step process, you will feel your skin detox and your mind relax.
Chemical Peels
Which Peel is right for you?:
We offer three levels of Peel at The Laser Room of Sherwood Park. A chemical peel gives you younger and brighter skin. The benefits are endless and can offer amazing results if done by a trained professional. Chemical Peel (or clinical exfoliation) removes dead and damaged skin from the upper layers of the epidermis. When the damaged skin is removed, it reveals new, youthful, beautiful skin. These are effective on wrinkles, pigmentation, uneven skin, and of course, blemishes.
1. Light peels are also referred to as glycolic peels. If your goal is to improve skin texture, sun damage and acne scars, this is your treatment. This would be the most non-invasive chemical peel and provides gentle reduction in fine lines, acne damage and uneven skin tone. You may resume daily activities after this treatment except direct sun exposure. Optimal results are achieved with several sessions.
2. A medium peel or TCA Acid goes deeper into the skin and provides a more dramatic result. This treatment helps to reduce deep-set wrinkles, smooth fine lines, diminish acne scars, and reduce age spots. Aftercare for a medium peel is a little different than the light peel. You can expect a crust to form on the treated area, which will then peel off in 7 to 10 days. You may slightly resemble a snake shedding its skin during this time but not always expected. Sun exposure must be limited during this treatment.
3. A deep peel or Phenol peel goes much deeper than the light and medium peels. One only treatment is required and results are much more dramatic. Downtime is much greater with this treatment and must be strictly adhered to. You will need at least one week to recover. Only with the approval of a certified professional, will this treatment be done. Only the professional will know if this treatment is safe for you. For most people, the light and medium peels are more than enough. This should not be your first choice because of the dramatic results it will achieve. The products used are only for certain conditions and not to be taken lightly.
What is the difference between a peel and a microdermabrasion?
Both are forms of exfoliation. A chemical peel is a chemical exfoliation where peeling and results occur over time. A microdermabrasion is a physical exfoliation using crushed diamonds to abrade your skin, giving you immediate and long lasting results. Both treatments are highly effective and a great addition to your regime. Book a consultation with a trained professional to learn more.
Derma needling Or also know as collagen induction therapy. Derma needling creates channels in the dermis which stimulates the body's natural defence to repair its self by creating a controlled wound response in the skin producing collagen and growth factors. Within minutes these channels close and the healing begins, so very little to no downtime unlike other ablative treatments. Fibroblast go to the point of injury and forms into collagen fibres resulting in increased strength and elasticity. New collagen production fills depressed scars and wrinkles from the bottom lifting the depressions to even out the skins surface aiding of aging skin, surgical or acne scarring and hyperpigmentation.
Who is derma needling for?
Everyone can benefit from derma needling helping to slow down the aging process, keeping skin looking and feeling young and supple. Acne pigment skin and also clients who are more sensitive to other treatments like chemical peels or lasers where often times can have inflammatory reactions causing flaking or peeling for 5 to 7 days resulting in downtime. No seasonal stops. Effective on all areas of the body: face, hands, chest, neck, knees, stomach, elbows and thighs.
What can derma needling do for you?
Skin rejuvenation, acne scaring, fine lines and wrinkles, surgical scars, hypo/hyperpigmentation, melasma, enlarged pores, stretch marks, and cellulite. Can even help to promote hair growth for fine thinning hair.
Does it hurt?
Not at all! We do numb the skin for 45 minutes before treatment so you do not feel any discomfort at all.
How many treatments will you need?
Unfortunately we cannot at this time stop the aging process and environmental factors so it is very important to use sunscreen everyday to prolong the effectiveness of the treatment. We recommend 4 to 6 sessions 4 to 6 weeks apart (or until desired results are achieved) why we need multiple treatments is because we need to keep stimulating the production of collagen, although after one treatment clients will see results depending on condition of the skin multiple sessions are needed.
To further boost the production of collagen we recommend the use of vitamin A product for approximately 2 weeks before and stopping 24 hours before their initial treatment.
Avoid sun exposure including tanning beds 48 hours before treatment. Also stopping the use of any Retin A Retinal's or glycollic acid 48 hours before and 5 to 7 days after treatment.
A deep manual exfoliation that removes the outer most layer of skin cells. It leaves skin feeling smooth, supple and vibrant. The technique of controlled scraping using a #10 scalpel and a #3 stainless steal surgical blade handle. This procedure can be performed alone or with other exfoliation treatments like chemical peels or derma needling . Oh and say goodbye to all that peach fuzz! While at the same time removes fine vellous facial hair (tiny translucent or blonde hair) that can hold onto dirt and oil.
But if you are blading my face won't my hair grow back darker and thicker?
Never! It's impossible for vellous hair to grow back darker or thicker. It will always grow back the same way.
Who is dermaplaning for?
All skin types can benefit from dermaplaning with the exception of acne (mild to moderate (grade 1 and 2) is fine, can work around) and over production of oil which can lead to more acne bacteria causing more breakouts.
What can dermaplaning do for you?
We all know it can remove unwanted facial hair, leaving the skin super soft your makeup with go on the skin so smoothly and blend to perfection. Dry skin types will love this treatment, leaving dull flaky skin supple and glowing. Over time can help to decrease the appearance of fine lines, wrinkles, and pigmentation. Can help with acne (grades 1 and 2), superficial acne scaring and comedones (black and white heads). Yes! Those bad boys pop right out.
376 Kaska Rd, Sherwood Park, AB T8A 4G8
Our new location offers more spacious service areas and more convenience and flexibility for booking times.